Welcome to Waingroves Show! Every year (except when there's a pandemic haha) we host our Village show on the second weekend in September. For our last show, the Drakes of Hazard joined us after 6 years and were as brilliant as always! We also had music from The Tomcats on Friday night in the Thorn Tree and Pure Steel on the Sunday both providing amazing music for us all weekend.
Feel free to check out the gallery for photos of the last amazing show! 2019's Show was our biggest show to date. Starting with the Horticultural Show we had a record breaking 1071 exhibits entered... smashing our previous record by over 100!
And that was just the start of records being broken for Waingroves Show. The Fun Run had a fantastic turnout on the Sunday and our Fun Dog Show has never seen so many entrants. The School field was packed with stalls and games from the BBQ and Cream Teas to the crafts and jewellery. The displays from the Drakes of Hazard were fantastic delighting kids and big kids alike. With the Dakota feeling unwell we were all very happy with our replacement flypast from the iconic Spitfire roaring above us and starting off our village show in style.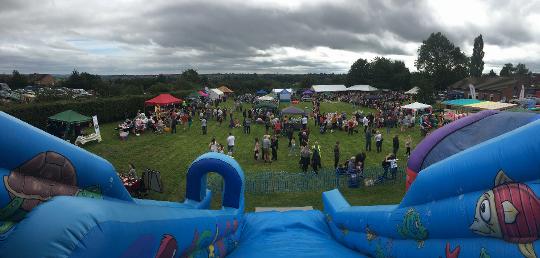 We'd also like to take this opportunity to say thank you to all the wonderful people that make the show happen. Waingroves Show is solely run by a team of hard working and dedicated volunteers. Without them we wouldn't be able to put on this show for you all every year so to all the volunteers, from those who lend a hand over the weekend to those that give up their time the whole year through, thank you. You're all amazing!
Waingroves Show respects privacy and is committed to maintain personal data in line with the GDPR May 2018. Please find attached our Privacy Policy. If you have any queries then please get in touch with use at info@waingrovesshow.com.
PHOTOGRAPHS/VIDEO - Waingroves Show will be taking photographs/video throughout Show weekend and at other events. These photographs/video will be used for Show purposes only for promotion of the Show and for reporting and recording of events. This may include using them on the Show website and social media pages, along with displays at other events. Please note that other groups and also individuals may also take photographs/video and potentially share with others. If you are not comfortable with the above, please speak to the person taking photographs/video or speak to an event organiser.