Sunday 15th September 2019
This year was an amazing year. Kicking off the show for us we had a flypast from the Battle of Britain Memorial Flight's Spitfire, an iconic plane from WWII recognisable not only from it's looks but from it's sound too. We could hear it before we could see it! We had music through out the day from Pure Steel, a local steel band from Heanor who kept the atmosphere going all day for us. And when they weren't playing, the Drakes of Hazard kept us entertained with their brilliant, talented and funny display of duck hearding! Flash the collie kept the ducks in line and made them face their perilous obstacles with ease.
We can honestly say we have never seen so many stalls or people all at our show before! The field was packed with things to see and do, from the cakes and ice creams to the beautiful parrots. We had book stalls, decorative items, hand made gifts and toys, cream teas, cakes, tombolas, raffles, fairground rides... everything you could wish for! Here's to a successful 2020!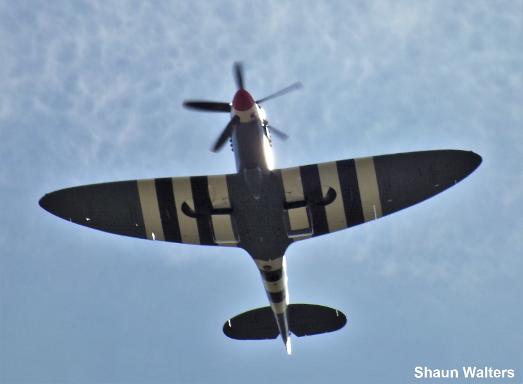 10am Open air church service:
A community service full of praise and prayer.
All welcome to come along to Waingroves Primary School.
11:30am Entries taken for the fun dog show:
Show off your dogs and bitches in the dog show and maybe prove to your friends that you DO have the best six legs!!! If you wish to get a head start and make entering easier for yourself on the day, then why not get your paws on the entry form below and print it out ready!
Held at Waingroves Primary School.
10am - 4:15pm Horticultural Show:
Horticultural Show open to the public at Waingroves Community Centre.
11am Fun Run:
Dress up and have fun racing each other to the finish line!!! Look out for a team in fancy dress who will be collecting for Operation Christmas Child. Entries taken from 10:30am on Waingroves Primary School drive, 50p per person
Cash prizes for fancy dress
Please note: Route includes stiles that are not suitable for pushchairs.
2pm - 4:30pm Entertainment:
BBQ, Beer tent, Cream teas, Side stalls, Games, Fun Dog Show
4:30pm - 5:15pm Collection of Exhibits:
Come and collect your exhibits and prizes from the Community Centre
5:45pm Auction at the Community Centre
This is your chance to try the best cake in the show, buy some exceptional fruit and veg or buy someone the best flowers in the village. Also this is your opportunity to own the wood carving made over the weekend. The raffle will also be drawn so come on down and see if you're one of the lucky winners!!!